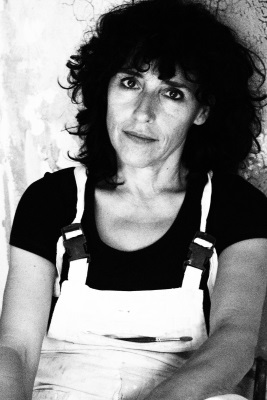 Ceramics
During the Academy years, guided by master Italo Ghilardi, I approached the ceramic world in an unusual way.
Mr. Ghilardi is a painter, Bergamo is a land with no tradition in ceramic handicraft; so my starting was very sperimental and free.
After this beginning, I visited the lands of Bassano and most of all Faenza, where I could enrich my knowledge and study of ceramic, as well as my experience.
I began meeting european ceramic artists and attending to Symposiums, organizing some of them at my workshop.
During these years of rich cooperation, I began enjoying important and still enduring relationships with many Italian and European ceramic artists:
SPAIN - TEXTURA school of Ceramics by TONI SORIANO,
RAKU School of Ceramic by TERESA BATALLA in Barcelona,
at MAIORCA cooperating with Margarida Escalas
GERMANY - KUNSTQUARTIER School of Arts in Nurenberg;
EVELYN HESSELMANN, valuable sculptress still working in Nurenberg at her own Atelier
ITALY - Emidio Galassi, Nino Caruso, Pompeo Pianezzola
On behalf of the Italian Chamber of Commerce of Bergamo and Artisan Association, I organized "ARTEUROPA 1994".
In Slovenia I took part at "TIERA 90" as a teacher.
I also took part at the first  World Convention of Ceramic arts  in Deruta in 1999.
From 1994 to 1996 I have taught for Regione Lombardia at the Professional Ceramic learning courses.
My artisan work started in 1978 while studying. I worked in a small workshop in Albino and sold my works directly to the public, both in my "Bottega" and in an exhibtion in Bergamo - Città Alta, specially dedicated by the Chamber of Commerce to local artists works.
During my first years' work, I made and sold home articles, small sculptures and bas-reliefs as well as modern ceramic works realized with special techniques, spending my time also in divulging the work of ceramic art and educating public to this complex knowledge.
I partecipated at exhibitions and special events during these years and was awarded by a special Price at the International Artisan Exhibition in FLORENCE, at M.I.A. in MONZA and received the QUARIT Price at the Artisan Exhibition in Milan.
In 1997 I created three sculptural groups for Cochabamba Cathedral in Bolivia.
I then created the Art Work "Cantico delle Creature" for the internal Chapel of the Cappuccini Monastery in Albino.
A private mortuary Chapel at Roè Volciano (BS).
In 2000 I created a small Monument for the City of Albino, realized in cooperation with Evelyn Hesselmann.
In 2003 I realized two sculptures for the frontal  of the Parrocchia  in Cene BG: "Papa Giovanni" and "Beata Molla"
In 2006  was held my personal Exhibition at Palazzo Beato Jacopo in  Varazze
Further to these works, many initiatives have followed: among which, mabe the most important one was in
2013, in cooperation with Master and friend UGO RIVA creating the Art Work "A Quattro Mani" exhibited at Four Seasons in Florence.

I took part at the International Ceramist Symposium in Croatia in 2014; in the same year I have been at the International Symposium MACSABAL at the Hacetepe Universitat - Ankara.
From the Exhibition "A Quattro Mani" With Ugo Riva at Four Seasons
2013
RAKU Rapid ceramic burning technique, with abrupt cooling of the ceramics that allows forming the characteristic black, craquelé and metallic coloured surfaces.
Painting
I attended the "Accademia di Belle Arti" of  Bergamo under the direction and guidance of Masters Longaretti and Ghilardi, devoting then myself also to the work of painting, at my Atelier.
I studied and developd the Fresco technique by myself at the beginning, then, thanks to my meeting Master Carlo Zini, a great artist specialized in Cinquecento frescoes, by learning from his wide knowledge.
Therefore I am now able to work both on fresh parging and on restauration, creating also new frescoes with an antique look. I can decorate both in classic and modern style; I have created a very personal technique, cooperating with "Biffi decorazioni" , who integrates my work with gesso.
Together with mr. Biffi, we decorated  two internal domes at Wollacombe-Windsor (London)
Fresco - Technique
Made out of natural minerals and clays, the pigments we use are prepared by ourselves.
On the wet plaster we reproduce the drawing by the technique of "Spolvero".
We work on wet plaster wich contains "calce" that fixes with a chemical process colours in a permanent resistant way. We remove this superficial pellicula  after some days , in order to transport on cloth the painting, giving it an ancient taste.
As for walls paintings and decorations, I mainly work in Sardinia, in cooperation with the interior designer "Berenice vien dal Mare", decorating prestigious Villas by combining colours and wall design with complements I produce, like lamps, sculptures and various decorating objects.